With Contra Vision® Perforated Window Film, transit wraps never need to be boring. There are no limits to creativity with a one-way vision window film since it allows you to extend your promotional graphics over the windows while still allowing passengers to see-through from the inside.
Need more reasons to opt for a transit wrap advertising campaign? We have a whole page on why you should choose transit advertising to reach your target audience. For now, take a look at these inventive uses of window perf on buses and trams.
Transit Advertising Examples
Cadbury Double Decker Bus
Copenhagen City Zoo
Talk about a wild morning: Copenhagen commuters were not left indifferent to this incredible bus wrap. The perfect illusion of a boa constrictor crushing a regular city bus was the ideal solution to make the biggest possible impact with a small budget. As for results, the Copenhagen Zoo became one of the most visited locations in the country in 2010 and the creative agency behind it took home plenty of awards.
Dr Best Flexible Toothbrush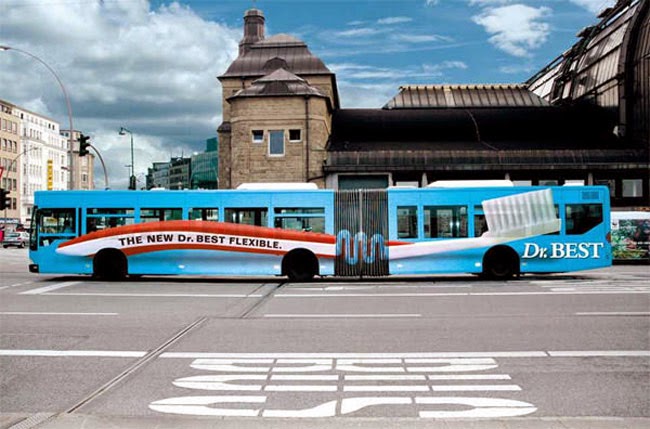 Barcelona's Tram.Cat
A successful transit wrap advertising campaign isn't just about bringing unusual elements to the table, sometimes it can be as simple as eliminating the barriers between the outside and the inside. For Barcelona's tram wrap, allowing passengers to see beyond and experience the carriages without stepping into one is what brought this campaign to life.
Cincinnati Zoo Bus Wrap
Visa Lobster Bus Contest
Would you remember to enter a social media contest if you saw a simple flier of it on a street corner? Probably not. This is why Visa and Wellington on a Plate took their competition to the streets, literally. Offering a $5000 foodie experience, a giant lobster on the side of a bus was the means chosen to deliver the message. Taking bus wrapping one step further, they even gave the crustacean 3D antennae at the top for a truly unique look.
King Kong Movie Campaign
Air New Zealand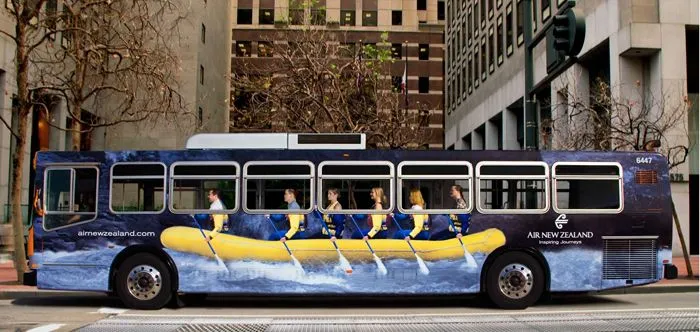 This ingenious bus wrap gives passersby a glance of where they could be with Air New Zealand. Using passengers as a part of a transit advertising campaign is the ultimate interactive move that is bound to draw attention wherever it goes. 
McDonald's Giant Fries
All images are sourced from Pinterest.
Feeling inspired already? Then check out our transit advertising page to learn more about how to transform transport vehicles into lucrative and impactful outdoor advertising space with Contra Vision®.