2020 greatly disrupted outdoor advertising, however, OOH has shown tremendous progress since then. In fact, global outdoor ad spending rose by 25.8% in the second quarter of 2021, the strongest growth recorded since 2016. 
So, how have these unique circumstances shaped OOH advertising trends in 2021? And what is in store for 2022? Let's see.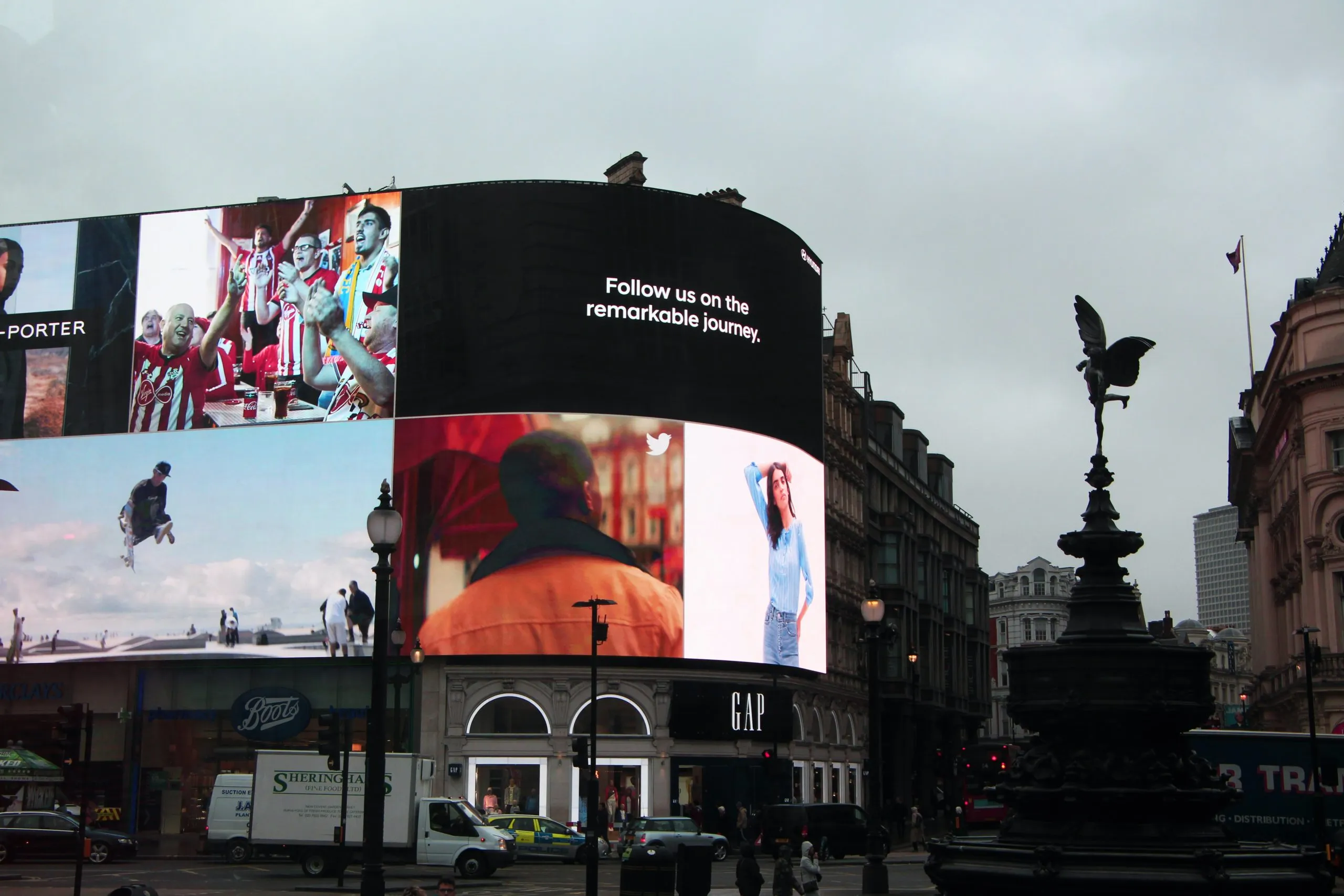 Tech & Data-Driven OOH Campaigns
The pandemic came with lots of changes for the OOH industry, most significantly, it accelerated the transformation and digitalisation of out of home advertising. The effects of this were felt far and wide.
For example, by using sensors, facial recognition software, and other AI smart features, advertisements can predict user behaviour and tailor the content to them. How does this affect OOH? This tech-driven smart advertisement will provide information key to out of home adverts to ensure that the target audience will interact with it.
As for data-driven OOH, there is a multitude of media measurement tools in place today that gives brands in-depth insight into their consumers. All of this data can, and is, leveraged by out-of-home campaigns to improve their targets and to deliver more contextually relevant adverts.
Multi-Channel Integration
Multi-channel integration refers to the integration of social platforms and television media formats with OOH campaigns. It is a way of ensuring all adverts across all mediums share the same coherent and consistent brand message and targets
Through multi-channel integration, out-of-home can build both an online and offline business persona, increasing reach and visibility across media types. 
Mobile Integration in OOH
Mobile search via smartphones and tablets is on the rise, which enables outdoor ads to take on smaller formats in busy places, particularly transport hubs. A simple scan can carry the user to a tailored ad campaign on their phone. How?
Simple: via QR Codes, given the built-in QR Code scanners in smartphones. From contactless payment methods to social media-based brands, the QR code boom is here to stay. 
And it's exceptionally easy to build a more interactive experience between audiences and brands through QR codes in outdoor advertising. Take for example the OOH campaign run by Calvin Klein, known for their daring billboard ads.
Integrating mobile in out of home campaigns via QR codes also provides instant feedback of the campaign success. 
Like QR codes, Augmented Reality (AR) is yet another OOH advertising trend that aims to increase interactivity and create an immersion experience for consumers, giving brands new ways of reaching out to people. 
Traditional OOH Billboards
Digital fatigue, more creative advertising, data-tailored ads: whatever you want to pinpoint as the cause, the fact is static billboards continue to be a powerful form of out of home advertising. The 24/7 exposure and the inability to be "turned off" similarly to an online ad makes them incredibly useful. It continues to be an effective way of spreading brand awareness to a large public and reaching new audiences in a short amount of time.
Likewise, digital billboards, with bright colours, high-resolution and animated graphics, will see more widespread adoption. Cost seems to be a driving force for this OOH advertising trend: they are easier to move and replace and can run multiple ads on the same screen. They also give brands more freedom to adapt from static to moving imagery depending on campaign requirements.
Especially considering how OOH advertising popularity has increased with more traffic on UK roads, the location continues to be key. High traffic and high footfall areas are prioritised, yet avoid areas where lots of competing advertisements gather.  Owning the total of the media space is essential to avoid a similar cluttered environment that is seen online. 
Advertising Is Storytelling
Tech and data-driven OOH campaigns bring plenty of benefits, but at the end of the day, advertising is the art of storytelling. Human connection improves brand relatability, it makes everyday customers brand ambassadors. Creating highly relatable stories that connect to the audience using the data gathered is a strategy OOH has already started embracing.
From individual ads that only tell part of the story that is the larger campaign, to advertisements that boost engagement by leaving the audience guessing "What's next?" in the storyline, OOH as an art form continues to show its inventive side, and brands have only to gain from it.
Adaptability, innovation and creativity will always be part of the cornerstones of OOH, and we can't wait to see what OOH advertising trends emerge in 2022 that completely blow us away. Until then, why not take inspiration from these Contra Vision applications in OOH ads?