Window Graphics for Retail
There is an enormous opportunity to use Contra Vision® for visual merchandising, point of purchase and branding promotions on everything. From entrance doors, windows, glass partitions to lift shafts and even chiller cabinet doors: one-way vision window graphics are ideal for retail applications. It enables prominent and impactful advertising in unexpected locations without blocking the view from inside and still allowing daylight into the store.
Full Wrap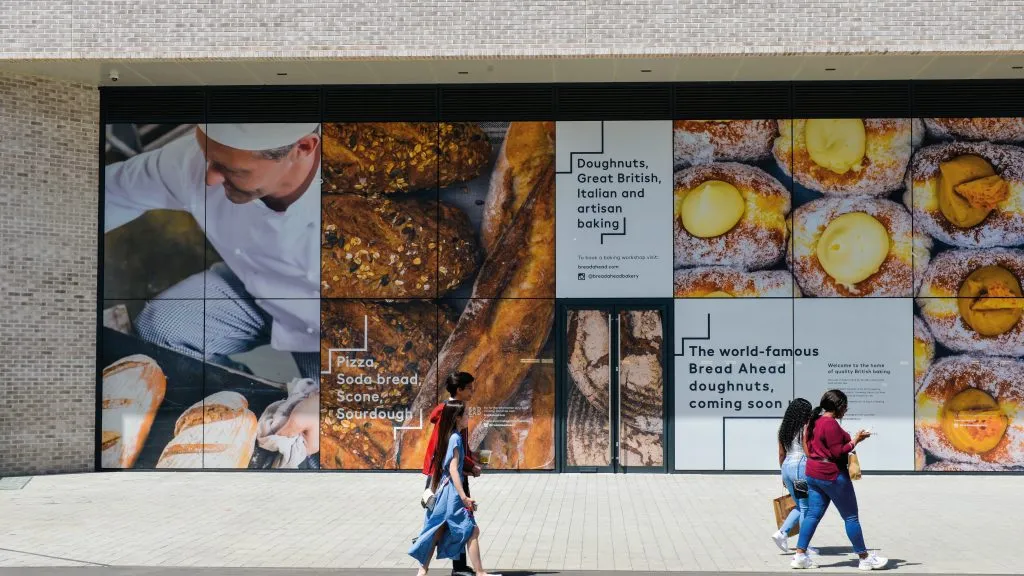 Full color window graphics are great for reinforcing a brand or promoting a product or service. The eyes of passers-by are drawn to the advertising and it drives footfall into shops. Shoppers inside retain their view of the street and also benefit from privacy, shading, and reductions in solar heat gain, glare and UV radiation.
Mixed Media
Standard digital LED screens (non-transparent) are a useful way to promote changing content to passers-by via a window display. However, it is expensive to install a screen in a window in a sleek and attractive way, because the fixings can look ugly. A one-way vision perforated vinyl can be used to surround the screen with window advertising and hide the LED stand from view. It is also provides a valuable visual communication space for glass branding and retail graphics while allowing daylight inside.
Store Refurbishment
Contra Vision® is a cost effective and popular solution to disguise empty retail/commercial space when renovations are being made. The window advertising space can be used to promote the reopening of the store and turn this is into a notable event. It allows light into the building to create a pleasant working environment but it prevents people from seeing inside during daytime, when the space could be unattractive.
Retail Door
Contra Vision enables visual communication, perforated window signs and glass branding to be added to one of the most attention grabbing locations in retail stores. Window decal advertising on the lower door panels and window poster decals are a popular format for door advertising, since they do not interrupt the see-through at eye height. It allows excellent see-through from inside the store and enough see-through from outside to notice people on the other side.
Contour Cut
Minimise the disruption caused by see-through window graphics by using either a cut-out design or framed visual merchandise, which only partially cover the window. A window decal with an irregular shape is also more likely to be noticed as visual merchandising. This solution was chosen by the May Fair Hotel in London to promote a nearby exhibition. Visual merchandising can help your business by framing the display with perforated vinyl it is possible to increase the focus on the product display, to add context and feeling.
Cooler Door
Cooler doors are ideal space for visual merchandising, promoting complementary products and cross-selling. A full decal wrap of a cooler door is visually striking and still allows a good amount of see-through if the cooler is well illuminated inside. Alternatively, a narrow advertising panel at the top or side of the cooler door, a window decal poster or die-cut design using see-through window graphics allows customers to get a better view into the cooler. See through window graphics can also be placed on the inside of the cooler door, whereby customers have an excellent view into the cooler when the door is closed and when the door is opened th advertising becomes visible for the first time on the inside of the door.
Display Cabinet
Display cabinets are a popular visual merchandising device in shop windows. Products are displayed on shelves and are visible to passers-by and can be accessed from inside the store. A Contra Vision window decal can be added to the outside of the cabinet to provide an additional visual effect. If the cabinet is well illuminated, then the graphics become highly see-through and the products are visible inside. Switch on and off the light and you can create a diverting impact on shoppers.
Vending Machine
Window decals are novel way to attract attention to vending machines. People do not expect to see things on the glass and see-through graphics create interesting visual effects when viewed from different angles. Cut-out graphics only cover a small portion of the glass and they are 20-50% transparent depending on which Contra Vision product is used.
Digital Screen
Transparent digital LCD screens can now be fitted to cooler doors, turning them into TV screens for advertising and branding. When switched off the screens are 60-70% transparent allowing an excellent view inside. However, the solution is not cheap and conventional window prints offer a higher return on investment in most cases.
Highlight Banner
Many retailers do not want to cover the majority of their display windows in advertising and would like people to see inside. Lower panels cover half of the window in one-way vision window film, allowing direct line of sight into shops. It is a clean look which adds color, visual communication and branding to the outside of stores without blocking a significant amount of daylight. A Contra Vision highlight banner positioned at the top of windows also provides a good balance. It also helps to shade a significant portion of the most uncomfortable sunlight from outside, which is an attractive benefit in places such has hairdressing salons, for glass branding or window advertising.
Posters
Hanging banners and graphics provide yet another visual communication option for advertisers and retail managers. Banners do not require direct application to windows and give flexibility to be used or removed at different points in the day; the product can also be suspended from ceilings. Window posters are another great way to attract attention, easy to print in large quantities and then distribute to multiple stores. There are straightforward guidelines for store managers to apply the posters to their display windows.
Viewing Partition
Many shops share a dividing wall with offices or storerooms. A one-way vision viewing partition between the areas enables managers to observe the retail floor and shopping tills without being seen. It also provides additional opportunities for retail display and glass branding while hiding people behind, making customers less uncomfortable about being watched.
Showroom
Car showrooms, with large glass facades, are the perfect location for one-way vision window graphics. A popular application is to cover the upper windows with product promotion and branding at point of sale. This maintains an unobstructed line of sight into the car showroom beneath the visual communication. An added benefit is that Contra Vision helps to reduce solar heat gain, glare and UV within the showroom, with reductions in air conditioning costs.
Digital Projection
Digital projection mapping is a technology which can turn often irregularly shaped objects, into a display surface for video projection. Whole buildings appear animated and when combined with audio content the experience is highly engaging. Perforated Window Film provides a canvas for projecting onto the windows while allowing people to see-out during the day time.
Trolley Bays
The glass structure of shopping trolley shelters provides an opportunity for both retail and Out of Home (OOH) advertising. See-through window graphics can be used to promote products without completely blocking the view inside. Window decals can be applied to either the inside or the outside of the glass to create different effects.