Vehicle Wrapping for Advertising & Branding
Contra Vision® enables vehicle advertising to extend onto the side and rear windows of cars and other vehicles of all shapes and sizes and in all climates. Vehicle wraps attract the eyes of everyone on the street and offer tremendous creative flexibility to advertisers. This helps to achieve high recall and response levels from consumers and audiences. Contra Vision® also offer incredible Transit Advertising solutions
Total Wrap
Van and car wraps are a highly creative and noticeable visual communication for branding and Out of Home (OOH) advertising. Convert your existing company cars with colorful window graphics which extend over the bodywork. The bodywork is covered in "solid vinyl" and we recommend a 40% perforated vinyl for the windows. Passengers inside benefit from increased privacy and solar shading. It also stops people from seeing goods or tools inside the vehicle and can prevent break-ins.
Side Window
Side windows are a great opportunity for a car wrap of window graphics using one-way vision decals. Often the back window is not used by passengers to see out and Contra Vision perforated car window decals help to provide added privacy, solar control and advertising space.
Side Strip
Convey simple messages via a strip of window decals. Contra Vision® Performance HD™ is a good choice because the small holes allow finer text and greater detail in the printed graphics.
Rear Window
The rear windows of company cars and vans are visible to pedestrians on both sides of the street as well as other vehicle drivers and passengers. See-through performance is often less critical so branding and product promotion can achieve a stronger image with a lower transparency product. A full window car wrap sends a strong and lasting message and provides privacy to people inside.
Rear Banner
A one-way vision banner on a rear company vehicle is an economical way to convey a simple message to drivers, pedestrians and passengers. The banner is easy to install and remove and can be printed economically in large numbers for a fleet campaign. The banner maintains good see-through for the driver.
Tractor Wrap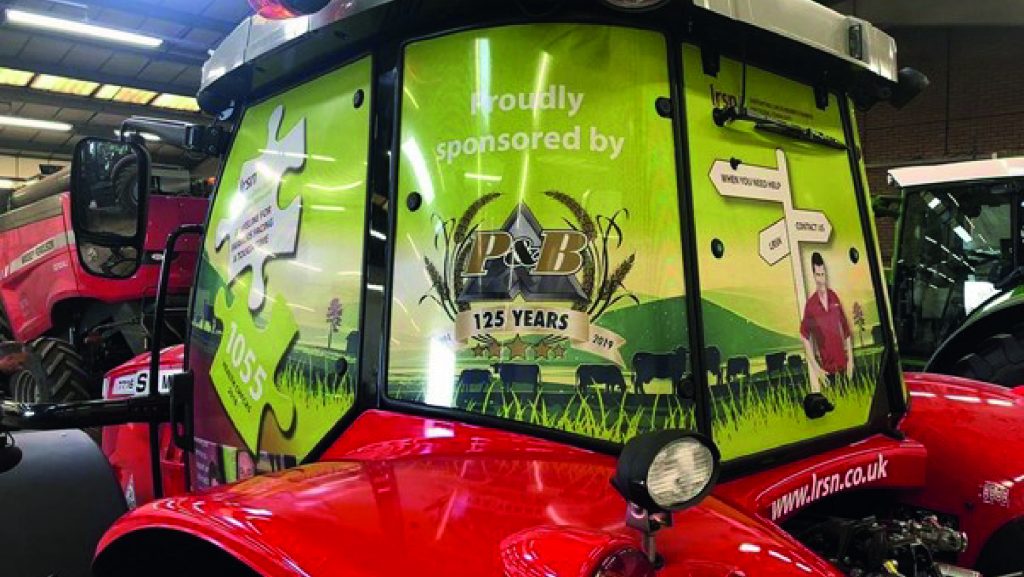 By applying perforated window film to a tractor, you can brand the farming vehicle while maintaining see-through vision for the driver. Window perf on the windows will also reduce solar glare, improving the operator's visibility of the work, creating a safer and more comfortable working environment.
Brandvisor
Contra Vision® BrandVisors™ ensure that whatever the weather, the corporate identity is always prominent at the front of construction vehicles. The one-way vision visor reduces solar glare, improving the operator's visibility of the work, creating a safer and more comfortable working environment. The Brandvisors are best applied to the inside of the window and Contra Vision recommends using one of our non-perforated products for one-way vision. It is an opportunity for the Original Equipment Manufacturer (OEM) to assert their brand and identity on the vehicle for life.
Mobile Library
High street branches, shops, libraries and local community centers are becoming unprofitable in a digital age. Some banks and government agencies are resorting to vehicles which drive to different locations over the week. The vehicles benefit from one-way vision windows to give privacy to workers and customers inside, which are often parked in very public locations. This also provides the opportunity to add branding and graphics to the outside of windows to promote the services on offer.
Mobility Cart
The front panel of an airport passenger vehicle was covered in one-way vision perforated window film. This enables the driver to see downwards and improve their all round visibility while concealing their legs from view.
Golf Cart
Cover a fleet of golf carts with one-way vision perforated vinyl on the windshield. A great idea for marketing at a local golf course or a corporate event with key customers.
Ferris Wheel
Create a stand-out promotional campaign for a major event by wrapping a Ferris wheel in graphics. Extend the design onto the windows using printed perforated vinyl which is easy to install and remove without any residue. Out of Home (OOH) advertising can reach millions of people with window signs and glass branding.
Ferry Wrap
Decorative ferries can make a lasting impression on tourists and passengers. A full wrap of the boat, including window graphics, will make it highly visible to people on shore. Create dazzling Out of Home (OOH) visual communication, glass branding window graphics with Contra Vision.
Cable Car
In Europe it is common to see cable cars at ski resorts with perforated window graphics. The pods are seen by thousands each day as they queue to go up the mountain.
Ice Cream Van
Ice cream vans are visually distinct and are used as mobile advertising boards at point of sale. The van is surrounded with windows which can also be used to add one-way vision color to vehicles without blocking the view from inside. The inside of ice cream vans can become uncomfortably warm during the summer months and window graphics block 50-80% of glare and solar energy.
Driverless Pods
Self-driving cars represent the future of travel. Driverless pods are also under development for localized journeys at airports, hotels and events. The pods can be wrapped on all sides with window advertising for Out of Home (OOH) campaigns and branding.