100 Applications of Contra Vision
Our invention started a new type of advertising which spread across the world, making Contra Vision® a byword for one-way vision window graphics. It enables brands, retailers, government and private organizations to transform glass into valuable promotional space without blocking the see-through from the other side.
During 35 years in the business, we have counted over 100 different applications (109 at the last count!) of Contra Vision covering Retail display windows/Point of Purchase (POP)/visual merchandising; Out of Home (OOH) including vehicles, transport hubs etc.; Branding including vehicle livery, OEM (Original Equipment Manufacturer), interior partitions and building entrances; and novelty items. With our invention and your vision the creative possibilities are limitless.
One-way vision window graphics are a very popular promotional media for sports and events. Modern sports stadia often include large areas of glass and perforated window film maintains a high level of daylight inside. It is also a cost-effective way to promote events and conferences on building entrances.
Offices and hotels are increasingly built with glass facades which can be used for one-way vision window advertising. Transform your building with glass branding, product, event promotion or decorative graphics to make a lasting impression. No need to purchase media space when you can harness your own assets for Out of Home (OOH) advertising! People inside will continue to have a clear view through the window and daylight is preserved in living and working environments.
One-way vision window graphics are a very popular promotional media for Building Interiors. From Way-finding Signs, Balustrades & Desk Partitions to Meeting Rooms, Escalators & Stair Handrails, Contra Vision® provide numerous Window Graphics options for Building Interiors.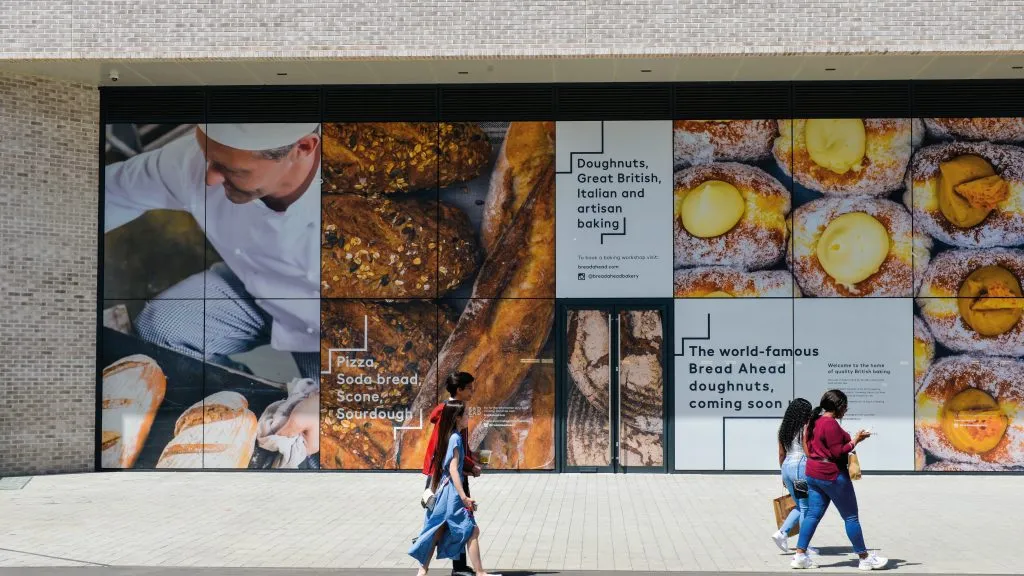 There is an enormous opportunity to use Contra Vision® for visual merchandising, point of purchase and branding promotions on everything. From entrance doors, windows, glass partitions to lift shafts and even chiller cabinet doors: one-way vision window graphics are ideal for retail applications. It enables prominent and impactful advertising in unexpected locations without blocking the view from inside and still allowing daylight into the store.
External tram and train advertising can be either in the form of graphics, simple text or other visual information. Advertisements can be produced in multiple formats from mega sides on a single carriage to full wraps. Any type of wrap is going to be visible and remembered by thousands of people each day for a successful Out of Home advertising campaign.
Contra Vision® enables vehicle advertising to extend onto the side and rear windows of cars and other vehicles of all shapes and sizes and in all climates. Vehicle wraps attract the eyes of everyone on the street and offer tremendous creative flexibility to advertisers. This helps to achieve high recall and response levels from consumers and audiences. Contra Vision® also offer incredible Transit Advertising solutions.
One-way vision window graphics are a very popular medium for OOH advertising. Perforated window film allows for one-of-a-kind, cost-effective applications that cover large areas, creating eye-catching designs. Find out more about what OOH advertising is and how your campaign can benefit from using Contra Vision®.
One-way vision window graphics allow for creatively unique applications. Whether the project you have in mind is big or small, Contra Vision® perforated window film can help your designs come to life. Find inspiration for your next project from the novelty window film applications below.
We have compiled the Applications into a single library to provide new ideas and to inspire the use of one-way vision window graphics. The library is intended as an educational resource for all the industry and the photos and projects are not confined to Contra Vision Perforated Window Film. If we do not know whether the source of the perforated window film is Contra Vision or someone else, then we clearly label the photograph as "Manufacturer Unknown". Please contact us if you wish to verify the manufacturer behind any photograph of wish to remove it altogether.